It seems that the local San Franciscan raves about Yosemite National Park, and statistics seem to back this up with Yosemite being the 4th most visited national park and google images, like the header above seem to make it appear like the most wonderful place yet most sources fail to mention that California has been experiencing a drought for 3 years. This has had its consequences on Yosemite.
In fact much greenery has become yellow, and waterfalls simply a strong spray. In fact, my family and I felt terribly disappointed with Yosemite.
A traffic filled drive from San Francisco, with hotels within the National Park being pricey, fuel prices outrageous and hotels just 5 minutes outside the park being double booked.
Yosemite CAN be wonderful,however a considerate amount of effort must be made for it to be so.
Steps to enjoying Yosemite:
Pronounce Yosemite correctly. It should be said as Yo-seh-meh-tee.
Go camping rather than in a hotel
Make sure that strict plans are made and researched as not doing so can result in slow and dragging days.
Buy food from outside of Yosemite, the grocery is small and overpriced.
If possible, go off the beaten path, hiking and what not.
Enjoy a swim in a stream.
Visit the places below: (use google maps as your guide – exact loactions do not have zip codes)
Bridalveil Falls – This is one of the prominent waterfalls in Yosemite national park,
however in the summer its water flow is considerably less. It has its own car park, from which the waterfall viewing point can be reached by a pushchair/stroller accessible trail. However to get closer from the viewing point to the waterfall many boulders and rocks can be climbed. This can be VERY DANGEROUS, as water spray makes the rocks slippery. If you wish to climb even then, do not do so with young children or injuries. It is best to climb barefooted as trainers do not provide enough traction when wet, resulting in bad falls. The car park also has toilets but these are generally very dirty.
2. Tunnel View / Inspiration Point: This spot will give you the world-famous overview of the whole valley, including El Capitan, Bridalveil Fall and Half Dome. It was the spot where the first non-native Americans "discovered" the valley and is a great place to "discover" the valley for yourself as well. There are many parking spaces at the viewing point, simply park up and take pictures.
3. Glacier Point – A further 40 mins from Tunnel View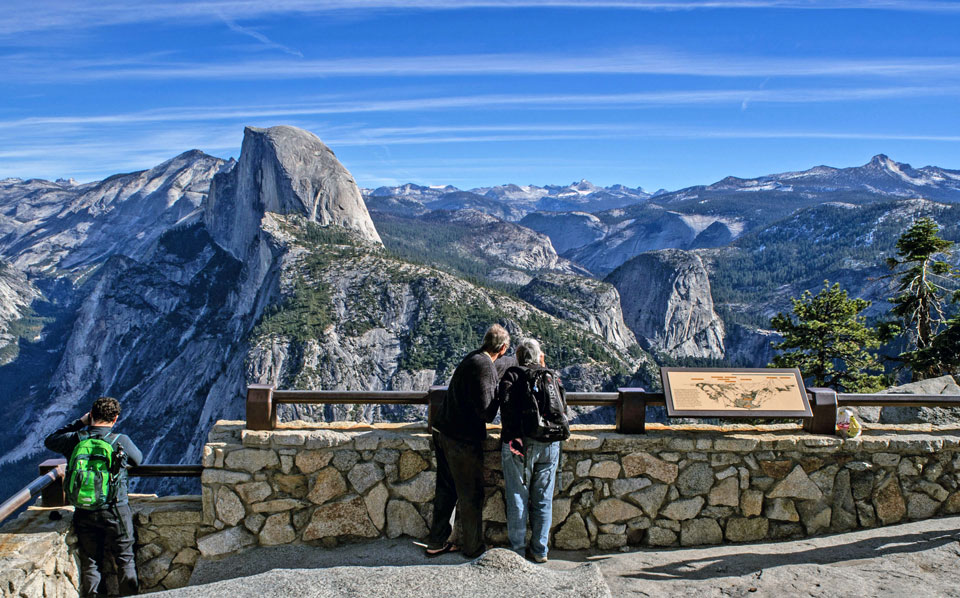 4. El Capitan Meadow, Southside Dr, California 95389
5.Mariposa Grove – Is temporarily closed but will re open in Spring 2017
For more detailed information visit
https://www.nps.gov/yose/planyourvisit/placestogo.htm
IN CONCLUSION:
YOSEMITE NATIONAL PARK LOOKS THE BEST IN SPRING. IT CAN BE BEAUTIFUL BUT IF YOU CAN NOT ADD IT TO YOUR ITINERARY, NO WORRIES. ALL IN ALL, IT IS LIKE A LARGER, LESS GREEN VERSION OF THE BEN NEVIS REGION.
IT WOULD BE BETTER TO EXCHANGE YOUR TIME AT YOSEMITE FOR BIG SUR AND A DRIVE DOWN THE PACIFIC HIGHWAY – ONE OF THE MOST BEAUTIFUL 3 HOUR DRIVES IN THE WORLD.